Uvita
Uvita is a small but fast growing community located in Costa Rica's southern pacific coastline. It is surrounded by stunning national parks and beautiful beaches that welcome all visitors. Uvita is located 16km south of Dominical and its located withing the Marino Ballena National Park which makes this an ecological hot spot.
You will have a good Idea of how far is Uvita from other cities in Costa Rica if you use our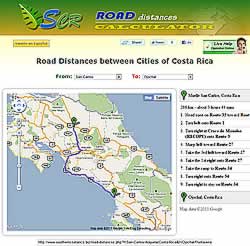 Costa Rica Distance Calculator and Map
It is famous for the humpback whales that migrate here during the months of December and April to mate. Which makes this an ideal place for whale watching. You can also find many dolphins including the bottlenose, spinner and spotted dolphin.
Uvita is also famous for its majestic ocean views, among these is the famous "Whale Tail" formation which as the name states resembles the tail of a whale when viewed from a high place or from the air. This is a natural occurring formation that appears only during low tide. Visitor can walk on it and swim in either one of it's two pools, where the water is very calm and warm, and enjoy the magnificent view of the mountains towering over the shore.
Uvita Lodging
In Uvita you will find many lodging options that will suit all budgets and necessities. You can find high quality vacation homes and hotels with all the amenities these include private security, swimming pools, ocean views, mountain views, mountain paths, transport, restaurants, and many others. Lodging options vary from ecolodges, hotels, camping, appartments, cabins and vacations homes, just to name a few.
Uvita has developed a lot over the past few years now there are several stores that cater to the necessities of the visitors and locals. Nowadays there are several supermarkets, banks, law offices, doctors, shopping plazas, hardware stores, contractors galleries, Internet cafes, Realtors, tour companies and car wash. There is also many restaurant choices from where to choose from and many local sodas (small cafes) where traditional food in served.
There are also many activities in which all visitor can participate and get to know the Osa peninsula. Activities here vary from tour to one of the many islands in the area one these being Caño Island. Here you can take a tour of the island and the scuba dive around the coral reefs of the island and experience first hand the marine life that resides there. Ventana Beach has become a very popular tourist attraction to visitor wanting to see the caverns that have been formed.
Other activities include bird watching which is very popular due to the fact that this area contains some 310 bird species.Horseback riding is also popular, you can visit Punta Uvita, ride through the forest, then continue to the beach and to top it off visit the water fall in the river and take a refreshing swim.
For those who prefer a more relaxed pace, you can take long walks along the coast, relax in a hammock on the beach and enjoy the beautiful sunsets that Uvita beach offers. A gorgeous and tranquil beach with not many tourist, these are the reasons why this beach is the perfect place for relaxation. It is also very close to the forest so many visitors like to hike there and go up the mountain, while enjoying nature to the fullest.
If you want go camping in Marino Ballena National Park, you can ask for prices and details in the park office:
Phone: 2786 5392
Email: pnmarinoballena@gmail.com
Getting to Uvita
You can take 2 different roads:
1. The Costanera Road: From San José you have to drive to Jacó - Quepos, then continue for the same way and Dominical is at 45 km South of Quepos. Once you are in Dominical, go straight in the same road and after 20 min you will get Uvita. All this road will be near the beach at your right side, the road is in excellent conditions.
2. The Panamerican way: You can drive in route to Cartago and San Isidro Pérez Zeledón, this is the mountain road, you will be passing the highest mountains in Costa Rica, the weater is "cold" (for Ticos -Costarrican people-), but this is fresh and full of wonderfull views, once you are in San Isidro, you have to take a right in McDonald´s, then go straight in this way to Dominical at 35 km of San Isidro de Pérez Zeledón.
Once you are in Dominical, go straight in the same road and after 20 min you will get Uvita.
This is the Uvita Bus Schedule.
Another option is to fly to the Palmar Sur Airport and then drive out to Uvita (20 min Northern Palmar Sur).
For more information about all Uvita Options and Business, please visit the Uvita Portal.
(0) Comments
Add Comment

Close
Be the first to comment on this listing!
Gallery
Click the photos to enlarge
Features
Map