Cabins Casa Amarilla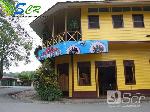 If you are looking for, comfort, safety, good health and economy ... In Palmar Norte YELLOW HOUSE CABINS find a place that retains its architectural design to spend time with a length of more than 60 years of service to our visitors.
In Palmar Norte a place to stay where you are welcomed by the owners willing to provide comfort in a warm family atmosphere. Our natural environment filled with plants that will give a fresh feeling.
We have a bar at your disposal, with a jukebox with which you can enjoy a traditional way to remember the themes heard yesterday.
The warmth with which we serve, the cleanliness of our facilities will make your visit an experience to let him return.
We have 20 rooms.
• Simple
• Doubles
• Triples
Features:
Ample parking
Cable TV
Private bathroom
Air Conditioning
Fan
Wi Fi (internet Grtis)
Restaurant and Bar Service 10:00 to 2:00 a.m. (corporate rates)
LifeLine $10 per person with bathroom COLLECTIVE.
We sing a privileged location gives us access to pharmacies, supermarkets, banks, ATMs, restaurants, Red Cross, fire station, auto service bus.
Palmar Norte area where is located one of the most important archaeological sites in Costa Rica, highlighted by the presence of huge stone spheres.
You will come to know more of the area of ​​tourism, biodiversity and environmental protection.
We are linked to our architectural heritage if you want to share the culture and learn the archeological and natural beauties of us. At Finca 6 Palmar five areas are located in alignment and two mounds, indicating that this place was visited by a ceremonial space groups Borucas Columbian ancestors.
There is no record of stone spheres, in all of America, or the rest of the world which have the characteristics mentioned!
Visit us will be a pleasure for us subservient.
(0) Comments
Add Comment

Close
Be the first to comment on this listing!
Advertising
Gallery
Click the photos to enlarge
Features
Features
Air Conditioned
Bar
Cable
Hot Water
Internet
Jacuzzi
Private garden
Laundry
Restaurant
TV
Fan
Mountain View
Traveler Type
Families
Single
Couple
Group
Details of prices
Lowest price $ 10
Our prices start in 4300 colones.
Map
Book