Tour de Canopy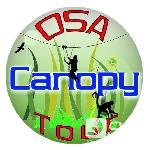 Welcome to the Osa Canopy Tour! Want to explore the Southern Zone of Costa Rica in a unique and full of adrenaline? You've come to the right place. We have 9 cables, 14 platforms, 2 rappel, one without Tarzan Swing Bridge. In addition to a delicious snack at the end of the tour.
Osa Canopy Tour # 1 in Fun and Adrenaline in Osa
A canopy tour is an adventure like no other. It consists of a network of wires extending from tower to tower above the ground of the jungle. Passengers traveling by cable through a specially designed harness that is safe and secure as you glide along the zipline. Gravity pushes the corridor along the cable, giving the driver the feeling of flying through the air in the majesty of nature to reach the next platform where the most spectacular views await. We have a maximum weight limit of 230 pounds
Experience the thrill of a lifetime.
You can try the Osa Canopy Tour if you have ever had a desire to see the rainforest of Costa Rica, up close and personal. It is definitely a unique experience you will never forget!
If you have always wanted to tour the jungle of Costa Rica, the tour offers a breathtaking view of the south. It is a journey that you just can not find anywhere else. We are fully insured, professional and ready to provide education and a ride of your life!
The best part of the tour is the ecology of the area is not altered in any way. The architect of the platforms and design Osa Canopy Tour - Jose Manuel Pizarro - uses technology that allows platforms to grow with the trees. He used an eco-friendly technology that requires no screws or nails (trees) in the construction of the tour so everyone can appreciate the natural beauty with minimal disruption to the natural environment.
Once the tour is over and you are back on the floor, you can enjoy a local snack of fresh fruit and beverages. Then you can enjoy a walk through the many trails full of mountainous terrain and natural serenity. Be sure to keep your eyes open, because you will have the opportunity to see all kinds of insects and animals typical of the region, including howler monkeys, sloths, iguanas, macaws, poison dart frogs and more!
(0) Comments
Add Comment

Close
Be the first to comment on this listing!
Advertising
Gallery
Click the photos to enlarge
Features
Theme
Honeymoon
Adventure
Families
Bird Watching
Ecotourism
Mountains
Traveler Type
Families
Single
Couple
Group
Details of prices
Lowest price $ 55
Rates and Reservations
prices:
Adult $ 55
-Students $ 45
Under 12 years $ 35
Map
Book