Nature Air Puerto Jiménez
Nature Air is a very well knowed company who make daily flyghts to Puerto Jiménez, Costa Rica.
Nature Air don´t have an office in Puerto Jiménez, but we can help you by phone: 1-800-235-9272 / (506) 2299 6000
Please Feel Free to use the online booking engine, if you Click Here to Book, you will be directed to Nature Air web site where you can do your reservation for you own.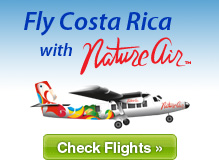 (0) Comments
Add Comment
Close
Be the first to comment on this listing!
Gallery
Click the photos to enlarge
Features
Map