LAST HOT DEALS FLY ADVENTURE TOUR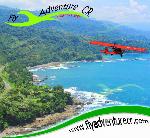 In an effort to add more fabulous tour specials to our portafolio of tour packages, we now offer a unique and amazing ultralight tour offer, that will work for you!
Enjoy a unique flight experience to this breathtaking tour: you will be able to fly over the abundant mountains and tropical humid forests that borders Marine Ballena National Park, habitat for numerous animal and bird species, beautiful white sandy and rocky beaches, estuaries, mangroves, cliffs, rocky reefs, islands and the Tómbolo of Punta Uvita.
Package includes an estimate flight of 15 minutes and barbecue.
We invite you to share a group experience in this aerial adventure party, enjoy a delicious barbecue, good music, have fun watching takeoffs and flights from our tower and meet nice people. This is the perfect time of the year to book your next adventure. Make your plans now and you'll have something extra-special to look forward to during this ending winter season.
Price: $70 per person
6 pax min.
(0) Comments
Add Comment

Close
Be the first to comment on this listing!
Advertising
Gallery
Click the photos to enlarge
Features
Map
Book