PRISCILLA`S FITNESS GYM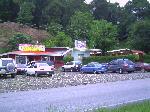 Ally fitness treatments for your good health: nutrition and education professionals through lectures and group evaluations.
PRISCILLA `S FITNESS GYM
Our guidance includes fitness and medical nutrition counseling through group discussions or evaluations. The discretion of the professionals in those areas.
Cardio and Weights
aerobics
Spin
notes:
Our members can lead nutritionist followed up with special discount.
Must comply with the requirements of the regulations of the gym.
To enter, and registration requests the gym a medical certificate indicating that he can exercise his physical and health condition is suitable for its intended purpose.
Now you watch your rewards for health:
Upon payment of your MONTHLY can participate in the raffle
bimonthly award in
MEDICINE AND BEAUTY CLINIC Valeria
Among our awards we have:
Facials, massages and relaxing, Waxing, Acne Treatments and spots, stretch marks treatments, mesotherapy, masks and so on.
(0) Comments
Add Comment

Close
Be the first to comment on this listing!
Advertising
Gallery
Click the photos to enlarge
Features
Map