Decovidrios in Ciudad Neily and Coto Brus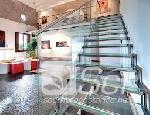 Decovidrios offers great variety in sizes and designs of mirrors for your home or business, windows, mirrors and glass and aluminum doors.
DECOVIDRIOS is a company dedicated to the manufacture and installation of glass doors, bathroom doors , window frames, urns , sliding systems and everything to do with glass and aluminum as the main raw material . We are focused on meeting the needs of our customers , with prices competivos .
· Variety in polls depending on size and finish required .
· Finish: Bronze , Black , Natural.
· Finish: plain or with aluminum frame .
· Finish : Bronze, Black , Natural.
· Euclothing casement window
· Window Oscilobatiente Euclothing
· Feel Warm Bathroom Door
· Available in tempered glass, bronze, gray and colorless.
· Door for Bathroom Tempered Ocean
· Acrylic Bathroom Door Lisa
· They can be made of acrylic or glass.
· Door Fluted Acrylic Bathroom
· Sandblasting or sanding
· Colors: clear , bronze , gray and gray super .
· 8040 Akari Sliding Door
· Sliding Door Euclothing
· Folding Door Euclothing
(0) Comments
Add Comment

Close
Be the first to comment on this listing!
Advertising
Gallery
Click the photos to enlarge
Features
Map