Cabins in Ciudad Neily Corredores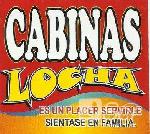 Accommodation Zona Sur Costa Rica Cabins Locha. Located in Ciudad Neily,Corredores. Near Golfito, Border with Panama and South Pacific beaches
Accommodation in Ciudad Neily, Corredores-South Costa Rica
We have comfortable, clean, safe, friendly atmosphere rooms, WIFI service, comfortable and secure parking, 24 hour service. Near to stores, restaurants, pharmacy, hospital.
We are located in a strategic location for your convenience. Yes must shop at the Border or Golfito Free Deposit can stay with us because in a minute you will move up there. In addition, close to beaches and varied tourist destinations in the area.
Suitable for government workers, private workers, national and international tourism.
Yes should come south should come Cabins Locha. Very happy will be attended by Diego Arias and Dunnia Chaves
(0) Comments
Add Comment

Close
Be the first to comment on this listing!
Advertising
Gallery
Click the photos to enlarge
Features
Features
Cable
Internet Access
Private garden
Laundry
Parking
TV
Phone
Fan
Mountain View
Theme
Honeymoon
Adventure
Families
Beach
Ecotourism
Mountains
Traveler Type
Families
Couple
Group
Details of prices
Lowest price $ 27
This lower price is for national tourists (2 people)
-Price for government workers $32
Map
Book