Whale and Dolphin Festival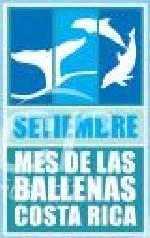 Whale & Dolphin Festival in Marino Ballena National Park
VII FESTIVAL OF WHALES AND DOLPHINS.
Version 2015
On 4, 5.6 / 12, 13 September 2015 19.20 7th Festival will be held
Whales and Dolphins in Ballena Bay. Outs for tour
whale and dolphins were made every hour in the beach area
Uvita Punta Ballena Marine National Park, with a reception at the box office
(Next to Restaurant Los Delfines).
The reservations can be made through deposit or you can buy your ticket at the box office
day you want to attend the event. We advise to book early so you can choose the day and
time you would like to participate.
To book please send the following details along with proof of deposit:
1. Name for reservation
2. Number of people
3. Indicate number adults and children (age of children)
4. Date of assistance.
5. identification number.
Los Delfines Restaurant adjacent to the box office will be located, the official parking (be in the old
airfield) and tourist and cultural activities will be held exhibitions information
(In the communal lounge or at the entrance to Parque Punta Uvita industry).
Participants in this activity should first go to the parking lot of the Festival
eventually it will cost to raise funds to benefit a community association,
It recommends that if you are going to make the tour of whale and dolphin go to the box office
so you can buy your ticket at the desired time for better enjoyment. If you have your
Previous reservation go to the ticket office where a person will be responsible exclusively for
reservations who will deliver their respective tickets (must be presented with 1 hour
advance to withdraw his ticket with his identification card in hand to facilitate search for tickets)
TOURISM OPERATORS ASSOCIATION P.N.M.B.
www.festivaldeballenasydelfines.com
info@festivaldeballenaydelfines.com/ ballenacr@gmail.com
Tel: 8729 3624 2743 8562 •
When you have your ticket should know that there will be a position of guides who will
will give a talk induction before the tour and accompany them from the field to the fair
Beach. So 30 minutes should be submitted before the time you have set your ticket.
The ticket of whale and dolphin will cost? 20,000 10 years later
and? 10,000 children (3-9 years). Children under 2 are free and participation is at the discretion
their parents and must sign a disclaimer form.
NOTE: Pregnant women and children under one year can not participate in the tour.
If you suffer any illness or physical condition is your duty to inform the office of
reservations or ticket office when you buy your ticket.
On tour watching:
The tour is two hours, starting this tour at the main entrance
Marino Ballena National Park. The main purpose is to search and whale watching
who visit us during this season; additionally, if Mother Nature permits,
We can also observe other stunning marine animals such as dolphins, turtles and
seabirds. With the desire to respect nature and keep our code of tourism
responsible, this tour watching whales and dolphins will be in compliance with the protocols
safety and responsible sighting. The departure times are indicated for each client in the
ticket, those who make a reservation before the festival can choose the day and time, if
direct purchase at the box office would be subject to availability and will indicate what his time
output. The tours will be taking place throughout the day at the festival, beginning at 8am
until 4pm, as long as weather conditions permit and that our priority is
the welfare of clients and staff. The chances for whale watching
ranging from 90-95% as they are animals in their natural habitat and move on
ocean freely.
Primarily whale will see during our tour is the "humpback"
It is one of the largest whales in the world, adults have a length of 12-16 meters.
It is distributed by all the world's oceans and seas; typically they migrate up to 25 000 km each
year. The Humpbacks feed only in summer in the polar regions and migrate to waters
tropical and subtropical like ours to breed and calve calves during the winter
polar. While winter elapses fast and subsist thanks to its fat reserves. The species
feeds mainly on krill and small fish; It has a wide range of methods
feed, including the notable technical network bubble.
The ticket includes:
- Entrance to PN M Whale (nationals and residents)
- 2 hours of travel PNMB.
- Search for Whales and Dolphins.
- A Fruit.
- A bottle of water.
- Guide
- Safety equipment
- Insurance policy
Important note:
Due to measures stipulated by the management of the National Park, the tickets include admission
the only national park and residents with identification. Foreigners must pay their
further entry at a cost of $ 6 per person.
How to get to Costa Ballena?
From San Jose: Take Route 27 toward Orotina, following the departure Jacopo Tárcoles, according to Parrita- Quepos and the new highway (Route 34) to Sunday. Estimated travel time: 3hrs and 30 min. Alternatively: From San Jose, take the Cerro de la Muerte (Route 2) to San Isidro and then take Route 243 to Dominical. Festival official transport: Easy Transfer: Travel comfortably with a responsible company with insurance policies and all the comfort you deserve. Contact them at tel: 2443 88 00 Skype: Easytransfer Costa Rica Facebook: www.facebook.com/easytransfercostarica Twitter: @ easytransfercr.com Web: www.easytransfercr.com Sansa: Aviation: Travel comfortably and quickly from Juan Santa Maria Airport to Quepos . Contact them: tel. 2290 41 00 Web: www.flysansa.com
By bus: Company TRACOPA Plaza Víquez compared COSEVI General Traffic Directorate (AV18, Calle 5) San Jose, Costa Rica..
We recommend buying the ticket 24 hours before departure time.
What to bring?
• Swimwear
• Sandals
• Sunscreen
• Dark glasses (optional)
• Hat (optional)
• Plastic bag to protect your belongings.
• Comfortable clothes and cloth
• Extra water
• Personal medications
• House
• Layers or ponchos (optional)
• If you suffer from dizziness or vertigo are recommended medicine for this discomfort.
(0) Comments
Add Comment

Close
Be the first to comment on this listing!
Advertising
Gallery
Click the photos to enlarge
Features
Theme
Adventure
Families
Beach
Aquatic
Ecotourism
Traveler Type
Families
Yesngle
Couple
Group
Details of prices
Lowest price $ 20
Price Tours:
Adults: ¢ 16.000
Children: ¢ 10.000 ( 3 a 9 years old )
¡ Free children under 3 years !
Map
Book
Lodgings in the area
Conservation Areas