Tour Whale and Dolphin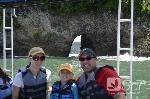 Gold Canto Marino is a responsible company that provides an unforgettable experience, always putting safety first.
Gold ocean ridge is offered:
A Combo Tour: In Search of whales and dolphins with a short section of Snorkeling.
This tour can be enjoyed by the whole family babies are welcome aboard ...
Description of Activity:
We left early, between 8:00 a.m. to 8:30 is our starting point, Marino Ballena National Park, our main objective is to find whales, during our walking guide will illustrate on some birds of the area you possibly can see, visit some highlights of the National park including:
· Playa Ventanas / Caverns.
· The Tómbolo / Tail of the Whale.
· The Three Sisters.
· Built whale.
If weather conditions are suitable, we will offer a short section of Snorkeling, for this we have all the specialized equipment and an experienced guide.
includes:
Entrance to Ballena Marine National Park
fruits
water
Bilingual guide if necessary.
Snorkeling equipment
Safety Team (Vests for babies)
Kit.
Last approximately 3-4 hours.
recommendations:
If you suffer from an illness (do not forget your prescription)
If you use any medication not forget.
If you suffer from nausea take a drug that does not cause sleep.
sunscreen
Light clothing.
Camera.
If children accompany you please take your snack.
Light towel.
If you have any additional questions or concerns, sientace free to contact us via phone.
(0) Comments
Add Comment

Close
Be the first to comment on this listing!
Advertising
Gallery
Click the photos to enlarge
Features
Theme
Aquatic
Adventure
Bird Watching
Whale Watching
Beach
Ecotourism
Families
Honeymoon
Map
Book