Dolphins and Whales in the Marino Ballena National Park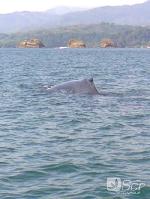 Whale and Dolphin Tour. Come and join Ballena Aventura with a unique experience in a magic place such as the Marino Ballena National Park.
Dolphins and Whales in the Marino Ballena National Park
It is a half day tour; you must be presented at 08:30 am at our office Ballena Aventura and concludes at approximately 12:00 md at Playa Uvita and also from 12:45 md until approximately 4:00 pm, all within the
Marino Ballena National Park
, where you can see the different beaches of the national park (Uvita Beach, Colonia Beach, Arco Beach, Ballena Beach and Piñuelas Beach), moreover also includes a visit to important places near the national park as The Ventanas Caverns (via boat), and the chance to see one of the mouths of the Térraba Great River (Boca Coronado).
The tour also includes the
search for cetaceans
, one of the main attractions in the area, all this during times of arrival of some whale species such as the humpback, pilot and some others. There is also the possibility of seeing some species of dolphins that are found in almost the entire Pacific Coast of America as is the case of bottlenose dolphin, rough-toothed dolphin, pantropical spotted dolphin and others. The tour is also recognized due to snorkeling in Ballena Island or at Punta Uvita Tómbolo, where you can find a great diversity of marine life.
Includes:
Bilingual guide (Spanish-English).
Captain highly experienced.
Safety equipment (life jacket, first aid kit).
Snorkeling equipment.
Snack (bottled water and fruit).
National park entrance.
Private parking.
(0) Comments
Add Comment

Close
Be the first to comment on this listing!
Advertising
Gallery
Click the photos to enlarge
Features
Theme
Adventure
Families
Hiking
Bird Watching
Beach
Aquatic
Ecotourism
Traveler Type
Families
Couple
Group
Map
Book