Ballena Infocenter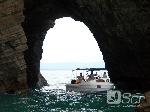 We are a family business which provides tourist information and we sale tourist products of excellent quality, besides we give to the persons an alternative for different tours in the south, all with the principles of excellence in quality and service, social and environmental resp
1. WATCHING WHALES & DOLPHINS
On this tour you will get to know the "Ballena" Marine National Park where you can see one of the major attractions of the Park: Punta Uvita or commonly called the "Tail of the Whale," also you may cross through one of the caverns called "Ventanas" or "windows" if the waves permit it.
Also depending on the tide you can snorkeling in Punta Uvita or at Ballena Island (marine bird sanctuary), along the way your captain will search for whales and dolphins, as well as other types of marine animals characteristic of this area.
2. TERRABA - SIERPE MANGROVES
From the Sierpe-Térraba River you can browse one of the largest mangrove systems of Central America: the Terra-Sierpe mangroves. During the tour you will take a boat or a catamaran through the channels of these mangroves, where you can observe many species of birds such as ospreys, scarlet macaws, etc., also you may have the chance to see the 4 species of monkeys that we have in the country: in one place! And of course crocodiles and caimans characteristic of this area.
3.CORCOVADO NATIONAL PARK (SIRENA RANGER STATION)
Corcovado National Park is one of the richest places in biodiversity in the country and it has several biological stations, this time you will travel to Sirena, which is about two hours by boat from Playa Uvita and 1 hour and a half by boat from Sierpe, once you reach Sirena you will get to the beach and then walk a few hours on the trails of this station.The extraordinary diversity and concentration of wildlife in the basin of Corcovado River, which is located in the Sirena station, allows opportunities to see wildlife to arise in any time in almost any part of any path.The most common animals to see are the white-faced monkeys and howler monkeys, coatis, macaws, tapirs, pumas, among others.
4. OSA CANOPY TOUR
Osa Canopy is located on a private reserve of 800 hectares of primary and secondary forest, which consists of 11 cables approximately 450 meters long, 2 rappelling stations in the trees and a Tarzan rope. Also on the property you will see different birds, mammals, etc
5.ATV TOURS
A very scenic, easy paced tour that take you over the mountains and into some deep jungle providing you with many spectacular ocean & valley views. You'll pass through several streams, coffee & banana plantations and frequently see monkeys, toucans and other exotic wildlife. Then you will continue on through the small village of Morete and pass through several farms on our way to the San Luis waterfall. This waterfall is so tall that often the top cannot be seen as it is in the clouds.
Sustainable Information
Dear Customer:
We ask for your cooperation in our efforts to contribute for the sustainability of our planet, please take in consideration the following recommendations:
In your house or your office:
1. Cultivate water rationalization
2. Select the trash and separated it with the objective to recicle it.
3. Don't use sunscreen or other products in spray.
4. Turn off the lights no longer in use of your house or in your office.
Protected Areas:
1. Please do not feed any animals.
2. Protect the fauna and flora by no extraditing it and don't hunt any animals.
3. Carry out with all the regulations that stablish every protected area.
4. Take in consideration every recommendations that the guides or rangers of the National Parks give to you.
General Information:
1. Wildlife habits are different and also they are in their natural habitat, therefore we don't guarantee a100% that you will observe them.
2. Get to know our store that has handcraft from artists of the area.
3. Ask our staff for protected areas and the touristic activities that can be done in them.
4. In Costa Rica there's a regulation for the observation of whales and dolphins, for this matter the captain is not allowed to get less than 200 meters near from a whale with his calf either 100 meters from dolphins; this has a purpose of not scare or disturb them in their natural ambience, besides if we follow this regulations and respect their space we might enjoy them every year .
Terms & Conditions:
1. For all tour reservations must be canceled 20% in order to ensurereservation.
2. For tours: If you cancel the reservation within 24 hours is considered as notshow and must collect the full amount of reservation.
3. Any cancellation or modification of reservation must be made in writing andsend to ballenainfocenter@gmail.com
4. If circumstances beyond our control: bad weather, accident orsome kind of disease which can interfere with the tour will be refunded 100% paymentperformed.
5. The customer must give your voucher to the service provider when submitted totour operator.
6. We do not guarantee that animals are observed during the tours because they are animalsWild in their natural habitat and although they are the best times to observe certainPets not always safe, so no refund for failure to observeWildlife on their journey on tour.
7. Infocenter whale is not responsible for lost objects, bumps and accidentsbeyond our control that may occur during travel on tour.8. The photographs on the website and in our presentations areInfocenter Whale property and are copyrighted, if you want a picture cancontact through our e-mail.
(0) Comments
Add Comment

Close
Be the first to comment on this listing!
Advertising
Gallery
Click the photos to enlarge
Features
Map
Book