Professional Chef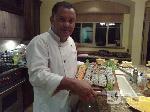 The Professional Chef Jose Piñar has 12 years experience in the culinary arts, specializing in international cuisine.
You can enjoy a private event with the best International quality.
Our menu is extensive.
We use local products and fresh to convert your food in a gourmet style.
The preparation of our food is a very healthy way.
Specialty.
seafood
meat
pasta
grills
Desserts
I´m are able to hep you for breakfast, lunch, coffee time, or dinner, or for your special event.
Enjoy our live art.
(0) Comments
Add Comment

Close
Be the first to comment on this listing!
Advertising
Gallery
Click the photos to enlarge
Features
Map
Tours in the area
Lodgins in the area