Kayak Tours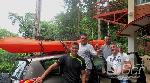 Live with us the best kayaking adventures are some of the best destinations in southern Costa Rica for adventure lovers are sure to live a memorable experience.
GREAT RIVER TERRABA!
A guided tour by guide
Tour of mangroves in Kayak
Explore the largest mangrove reserve in Costa Rica and Central America in a silent river kayak and see many varieties of birds, white-faced monkeys, raccoons, an occasional crocodile and other wild inhabitants in their natural environment. From 2 hours to 3 hours.
Guided tour of the river, mangroves and beach
Explore the longest river in Costa Rica in a river kayak. Glide slowly through the mangroves hushed as a cathedral to reach the island 17 miles long - Heron Island. There you can enjoy an hour or two looking at scanning the wild inhabitants of the island and the mangrove forest, or you can play or swim on the beach of the island. You can also do this tour in "panga" - a small river boat motor. 3 to 4 hours.
River Tour in Puerto Cortés kayak
They take your kayak 20 kilometers upriver from Puerto Cortes. From there you can paddle down the river, exploring the multiplicity of environments and and incredible sensations of this river. Fitness novices can navigate the river without problem. A guide will accompany you on your journey into the mangrove forest reserve in Costa Rica's largest. 5 hours or more - depending on the tides.
River Tour in Puerto Cortés panga (a small river boat motor)
Appreciate the many faces of the Great River Terraba. Visit the crocodiles and alligators, and the woodpeckers, and all kinds of marsh birds in their natural environment. Observe what is left of the narrow bridges of cables used by the United Fruit Company to harvest bananas. Before you can stop back at the dock at Puerto Cortes a mouth to eat and / or drink. 4 hours or more. Check Out depends on the tide.
Also rent kayaks on site for your personal use.
You can do snorkeling in one of the most beautiful places on the coast of South Pacific islands that are visible from the hotel across from Playa Ballena (The Three Sisters). They are about twenty minutes from the beach kayak. From December to April you can also sometimes see whales, dolphins and turtles in these waters. It's where some whales come to give birth.
(0) Comments
Add Comment

Close
Be the first to comment on this listing!
Advertising
Gallery
Click the photos to enlarge
Features
Theme
Aquatic
Adventure
Bird Watching
Beach
Ecotourism
Families
Honeymoon
Mountains
Traveler Type
Families
Single
Couple
Group
Map
Book