La Cusinga Ecolodge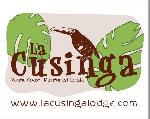 We are an ecological hotel surrounded by nature and beautiful landscapes.
The Cusinga Lodge is a coastal rainforest ecolodge dedicated to marine and terrestrial conservation, complemented with environmental education. It is located in the southern Pacific coast, and it provides guests with sweeping ocean views and a relaxing beach vacation. In addition, the Cusinga is part of a private reserve that supplies the visitor with an unparalleled wildlife and rainforest of Costa Rica.
La Cusinga Ecolodge is one of the top places for ecotourism in Costa Rica, you will be hosted in a place with low impact in the surroundings.
(0) Comments
Add Comment

Close
Be the first to comment on this listing!
Advertising
Gallery
Click the photos to enlarge
Features
Features
Fan
Hot Water
Internet
Mountain View
Ocean View
Parking
Private garden
Restaurant
Vegetarian-restaurant
Other
Theme
Adventure
Bird Watching
Beach
Ecotourism
Hiking
Honeymoon
Mountains
Traveler Type
Families
Single
Couple
Group
Budget
Standard
Economic
Luxury
Details of prices
Lowest price $ 118
At Hotel La Cusinga EcoLodge we offer great accommodations, ideal for your tropical vacation, breezy comfortable rooms. All with huge ocean views, where you can see Ballena Marine National Park, the Rainforest and much more. All of our rooms are made from reforested wood from our trees planted on the same farm 20 years ago. Local craftsmanship with wood, stone, shell, and sand is unique. Elegant room with the same great panoramic view. Excellent choice for those who wants to escape and spend time with your inner nature. Enjoy the sunset each day and get ready for a relaxing night!
Package´s Price in Single occupation:$118.00
Package´s Price in Double occupation: $149.00
*Rates may vary and rooms are subject to availability. Valid until December 15, 2011.
Map
Book
Activities in the area
Conservation Areas