Cristal Ballena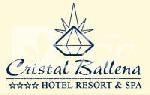 The hotel is located at Costa Ballena, in walking distance to the Ballena Marine National Park, at the South Pacific area of Costa Rica.
Our beautiful 4-star hotel, with its open café-style Bar - Restaurant "Pura Vida", is located in the midst of its own 12-hectare grounds, very close to the unique "Marino Ballena" Marine National Park and mountains covered in rainforest. This unique position allows breathtaking ocean views while a cooling breeze is coming from the mountains. Especially the daily sunsets are occasions in your life you will never forget.
(0) Comments
Add Comment

Close
Be the first to comment on this listing!
Advertising
Gallery
Click the photos to enlarge
Features
Features
Car Rental
Surf board rent
Bar
Cable
Conference Center
Gym
Hot Water
Internet
Jacuzzi
Private garden
Laundry
Parking
Pool
Refrigerator
Restaurant
Vegetarian-restaurant
Spa
TV
Phone
Fan
Mountain View
Ocean View
Theme
Honeymoon
Adventure
Luxury
Golf-Spa
Families
Bird Watching
Beach
Aquatic
Traveler Type
Families
Couple
Group
Details of prices
Lowest price $ 74
Rates
Junior Suites
Christmas Season (01/ 01/ 2010 - 04/ 01/ 2010): $209
High Season (05/ 01/ 2010 - 26/ 03/ 2010): $170
Easter Week (27/ 03/ 2010 - 05/ 04/ 2010): $209
High Season (06/ 04/ 2010 - 30/ 04/ 2010): $170
Green Season (01/ 05/ 2010 - 14/ 12/ 2010): $159
Master Suites/ Family Suites
Christmas Season (01/ 01/ 2010 - 04/ 01/ 2010): $259
High Season (05/ 01/ 2010 - 26/ 03/ 2010): $223
Easter Week (27/ 03/ 2010 - 05/ 04/ 2010): $259
High Season (06/ 04/ 2010 - 30/ 04/ 2010): $223
Green Season (01/ 05/ 2010 - 14/ 12/ 2010): $207
Adventure Lodges
Christmas Season (01/ 01/ 2010 - 04/ 01/ 2010): $100
High Season (05/ 01/ 2010 - 26/ 03/ 2010): $80
Easter Week (27/ 03/ 2010 - 05/ 04/ 2010): $100
High Season (06/ 04/ 2010 - 30/ 04/ 2010): $80
Green Season (01/ 05/ 2010 - 14/ 12/ 2010): $74
Map
Book