Cabin and whale Tour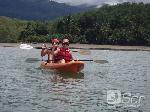 SPECIAL PACKAGE TOUR AND ACCOMMODATION One night's room and a boat tour for Whale Watching and an optional Kayak and Snorkel or (Tour Option) all for just $70 with fan and air-conditioned $90 per person
SPECIAL PACKAGE TOUR AND ACCOMMODATION
Here's what it contains rooms and a brief tour
We have three cabins that have:
We have a cabin with a double bed, and any other conditions above
Outside of the rooms have shared kitchen area.
We also have a cabin that has a fan but only has room for 6 people and a room to kitchen, private bathroom and cable TV.
But conditioned cabin with bathroom for disabled, and 1 'Marriage bed and two single beds, plus other conditions above.
The Tour of whale and dolphins is around our visiting whale tail, whale island site where you can do snorkeling, beach caves in windows and a path in the vicinity of the beaches of this park, lasting National Park three to four hours, including water, fruit, snorkeling equipment, tickets to the Marino Ballena National Park guide and lifejackets.
Humpback whale, measuring 18-20 meters long and can weigh between 38,000 to 40,000 kilos, stay in the South Pacific in the months of July to November.
For two more nights lodging tour Kayaking, Snorkeling and Whale Watching 75 thousand colones with fan and air $170 for person
We begin at low tide, the waves crossed traveled to one of the sides of the bassinet or passage known as the whale tail for Snorkeling.
Snorkeling lasts 45 minutes you will be able to see a lot of fishes and coral species.
Some of the marine species that can be seen to dive are: giant conch, starfish, parrotfish, snappers, damselfish, smooth eels, moorish idol, surgeons just a few of the myriad types of neighborhoods also coral.
Then continue to the tail surf kayak that is great fun and suitable for all types of people. We took a break and a snack you can explore the whale tail then back like the tide has risen, on a wave of the sea had a mangrove find there seabirds and mammals, see toucans opportunities. In this tour we have accompanied children from 4 years to 65 years older adults, people with disabilities also.
Includes: Water, Fruits, Cookies, ICT licensed guide (Spanish and English) Required equipment (kayak, paddles, life jackets and helmets) and entrance to Marino Ballena National Park.
Children under 9 half 9 onwards normal rate.
It is suitable for beach wear clothing
And protect yourself with sun block..
(0) Comments
Add Comment

Close
Be the first to comment on this listing!
Advertising
Gallery
Click the photos to enlarge
Features
Map
Book