Bungalows Ballena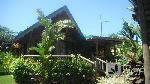 Hotel Bungalows Ballena offers our visitors and environmentally friendly lodging.
Bungalows Ballena is a project 100% natural, hence the concept of the
bungalows
built with treated wood.
We have 4 Bungalows / Apartments for 8 people, l
Equipped with:
dining room
2 hbitaciones
2 Bathrooms
fully fitted out with all kitchen
hot water
air conditioning.
Besides our visitors have satellite TV, wireless Internet.
We also have a beautiful and spacious pool in which you can enjoy at any time. And it has been thought in the enjoyment of the little ones, so we have a small play area for them.
Also available for your enjoyment of comfortable huts, each with chairs and even meat grills.
Bungalows Ballena is located 200 meters from the entrance to Ballena Marine Park and in the best location in the center of Uvita.
(0) Comments
Add Comment

Close
Be the first to comment on this listing!
Advertising
Gallery
Click the photos to enlarge
Features
Features
Cable
Kitchen
Hot Water
Parking
Pool
TV
Phone
Theme
Honeymoon
Adventure
Luxury
Families
Hiking
Beach
Ecotourism
Mountains
Traveler Type
Families
Couple
Group
Details of prices
Lowest price $ 100
High Season
$ 250 for 8.
$ 125 for 4.
Low Season
$ 200 for 8.
$ 100 for 4.
Map
Book
Activities in the area
Conservation Areas