La Fiore de Bahia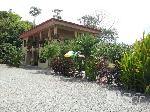 Nice Hotel with confortable rooms and apartment La Fiore de Bahí­a.
La Fiore de Bahía is a complex two-story cabins - Appartments, located in Playa Uvita downtown, Bahia Ballena.
At no more than 300 m from the beach and opposite the main paved road, you'll enjoy a safe and peaceful place to spend your vacations.
In Cabins La Fiore de Bahía we offers comfortable cabins and full furnished apartments.
In all we offers air conditioning, Internet, hot water, full equipped kitchen, microwave, TV and many others.
You have a beautiful pool where you can relax and sunbathe or enjoy with your family.
(0) Comments
Add Comment

Close
Be the first to comment on this listing!
Advertising
Gallery
Click the photos to enlarge
Features
Features
Air Condition
Car Rental
Surf board rent
Bugies rent
Cable
Kitchen
Hot Water
Internet Access
Parking
Pool
Refrigerator
Restaurant
TV
Fan
Mountain View
Theme
Honeymoon
Adventure
Families
Hiking
Bird Watching
Beach
Aquatic
Ecotourism
Mountains
All Inclusive
Other
Traveler Type
Families
Yesngle
Couple
Group
Details of prices
Lowest price $ 35
Our large spacious rooms are clean, modern, air-conditioned and have hot water.
1 Person: $35 (include breakfast)
2 Persons: $70 (include breakfast)
3 Persons: $90 (include breakfast)
4 Persons: $110 (include breakfast)
Appartment for 6 persons: $150

All appartments have kitchen.
Map
Book