Cabins Big Bamboo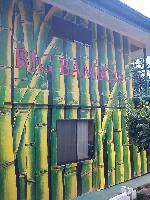 The Big Bamboo is the perfect place for a cheap accommodation without sacrificing any of the comforts of home. We can arrange all aspects of your trip to the airport collection and a variety of tours to suit your desires.
In the heart of the village of Uvita, located at the entrance to Ballena National Park in the southern Pacific coast of Costa Rica is a small piece of paradise. Comfortable rooms with amenities such as Wi-Fi, cable TV and air conditioning.
Cabins
Enjoy the fragrance of the morning air as he prepared to dive, sail or swim under a waterfall, while Ronnie Chef prepares a takeaway. Then, after his adventure, dinner will be waiting for you.
Location
The Big Bamboo is located in Costa Rica, Central America. Specifically in Uvita, in the southern Pacific coast about 10 miles south of Dominical. Costa Rica has long since ceased to be a secret. U.S. retirees have come to this country for its mild climate and a stable government and to the welcoming attitude of Costa Ricans (Ticos).
Uvita is a small, but has a number of unusual features:
· Four banks
· Three supermarkets
· Health and Dental Clinics
· A bakery
· A gas station
· An Internet cafe
A gym
· A tilapia farm
· An extensive veterinary service
· Construction companies
· Several restaurants
· Spacious accommodation opportunities
· Several furniture stores
Furthermore, Uvita has several equipment suppliers, able to organize trips around national parks, natural waterfalls and reefs.
Nearby, Eye shawl is famous for its fancy restaurants and Dominical French style has extensive entertainment and is a well regarded for surfing circuit.
Attractions
The Big Bamboo has many advantages, perhaps the most interesting aspect is the incredible amount of surrounding attractions ...
· Beaches
· Falls: some are in walking distance, other car access
· Surf: great place for beginners and intermediate surfers to continue their surfing skills
· Adventure Tours Keywords: virgin forests and beaches of the Southern Zone of Costa Rica. The diverse landscape ranges from pristine beaches to mountain trails just minutes away.
· Canopy
· Snorkeling
Rafting
· Whale watching: August to April's whale and dolphin watching excursions in Ballena National Park.
· Swimming: several beaches.
· National Parks: Ballena National Park, Corcovado National Park and Manuel Antonio National Park.
· Kayak Tours
· Bicycle hire
· Ride
· Sport Fishing
(0) Comments
Add Comment

Close
Be the first to comment on this listing!
Advertising
Gallery
Click the photos to enlarge
Features
Features
Air Conditioned
Hot Water
Internet Access
Private garden
Laundry
Parking
Restaurante
TV
Fan
Theme
Adventure
Families
Hiking
Bird Watching
Beach
Ecotourism
Traveler Type
Families
Single
Couple
Group
Map
Book