Terrazas de Ballena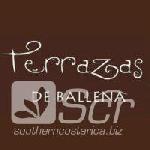 Las Terrazas de Ballena is an island of peace and tranquility just minutes away from shopping, dining, and the beautiful beaches of the South Pacific Coast. You can relax by our beautiful pool or take advantage of many activities up and down the coast. It's all up to you.
Directly off the paved Costanera Highway in Uvita, across from the only gas station and only 1.5 Km up the hill, you will encounter undiscovered privacy, seclusion, luxury and services. Surround yourself with the untouched rain forest of the Costa Ballena area.
The view is breathtaking and on the right day you can witness these magnificent creatures spawning from the vista of our terraza at Costa Rica's only preserved National Whale Park. Our respect to the wildlife was a primary factor in our construction which included hundreds of trees that were re-forested rather than cut down. Most materials used were sutainable materials.
Whatever you request we can accommodate. Service is our outstanding signature dish. With the slightest advance notice we can accommodate just about any guest.
Our mission is to make your stay with us one that is most memorable. We understand our clients and are here for you whenever you need.
We feature three bungalows.
The Mariposa Suite, nestled high above the other two bungalow suites offers a totally private sun terraza with a Queen size bed, large rain shower bathroom, outdoor kitchenette and A/C.
The Mono and the Tucan, situated above the jungle lagoon pool with its soothing waterfall, offer both a king and queen bed in each bungalow, a large open rain shower bath, enormous private sun terraza with spectacular views and a personal outdoor kitchenette. Like our other bungalow suites it is designed with triple slider doors and windows, providing options to screened in open air, A/C and complete glass closure.
(0) Comments
Add Comment

Close
Be the first to comment on this listing!
Advertising
Gallery
Click the photos to enlarge
Features
Features
Kitchen
Hot Water
Internet
Parking
Pool
Refrigerator
TV
Mountain View
Ocean View
Theme
Honeymoon
Adventure
Luxury
Families
Hiking
Bird Watching
Beach
Ecotourism
Mountains
Traveler Type
Families
Couple
Group
Details of prices
See our rates
Map
Book
Activities in the area
Conservation Areas