Etnotouristic Center The Rest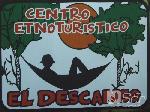 This name implies, a resting place, surrounded by indigenous culture Terraba, full of great scenic beauty and rich culture and delicious dishes indigenous peoples.
Located in the canton of Buenos Aires, Puntarenas - Costa Rica, in the Térraba indigenous territory, a place full of scenic beauty and indigenous cultural wealth. Its major goal is to share and transmit the visitor the indiands lifestyle, their culture and worldview.
And speaking of these brave women, they are formed into an association and are responsible for administering the Craft Center, a place dedicated to the development not only of these, but the exhibition, sale and to provide courses for anyone want to learn the process ..
spend a beautiful day in the delicious refreshing waters of Cataract and Grandmother Terra Natural Pools, visit petroglíflos (graphical representations recorded in rocks or stones made ​​by our ancestors), tour of medicinal plants and natural history, visiting the elderly Terrabas, between others.
Also at your disposal tenenos 4 comfortable cottages (1 double bed, 1 single cabin, 3 twin cabins triples)
With traditional designs deTérraba
private bathroom
Large windows overlooking the forest.
Bedrooms for 25 persons with private bathroom cabins, excellent for groups and volunteers.
The rest, not only offers comfortable cabins, also different tours where you can learn more about the indigenous culture, among them are:
Visit the petroglyphs.
Tour to the Waterfall and Natural Pools Terra Grandmother
Crafts Workshop.
Tour the process of Coffee and Cocoa (roasting and grinding)
Visit the Elders Terrabas
Medicine and History
Tour Boruca indigenous communities
Tours to Dúrika, The Friendship Asoprola, Cerro Biolley of Asomobi, South Pacific beaches, among others.
Work experiences and learning community.
(0) Comments
Add Comment

Close
Be the first to comment on this listing!
Advertising
Gallery
Click the photos to enlarge
Features
Features
Mountain View
Parking
Private garden
Restaurant
Theme
Adventure
Ecotourism
Families
Hiking
Mountains
Traveler Type
Families
Single
Couple
Group
Details of prices
Lowest price $ 15
Overnight rates
Valid from December 1, 2012 to November 30, 2013.
Accommodation per person per night rate
2-7 people $ 19.00
Over 8 person $ 16.00
Food Prices for services
Breakfast $ 8.00
Lunch or Dinner $ 11.00
Map
Book
About the area
Not have Description of Cities in Terraba but we present these other options: