La Perla del Sur Adventures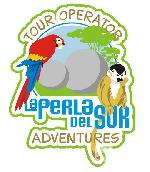 La Perla del Sur offers special options for enjoying the mangrove forests (day or night), Whales and Dolphins, bird watching, Boruca Indian Reservation or Corcovado National Park is unique in the world and Caño Island . With our comfortable boats you can enjoy the best wildlife experiences in Costa Rica.
Pearl of the South tour operator, is a company with nearly five years of experience in providing all types of visitor services in the south of Costa Rica, from Water transport, and land, to difrentes tours in which we highly qualified personnel certified by the ict
It is located in Tiller bear 15 minutes from Palmar Sur Airport
Arose from the need of the visitors, who get to town looking like snake do tours or preguntavan by Drake Bay Water transport to or different parts of the Peninsula de Osa.
We also have shuttle service, or if the customer prefers private tours to different parts of the peninsula.
Our company is located in Sierpe de Osa, in the heart of one of the ecological wonders of Costa Rica. The Osa Peninsula still has many surprises for those looking to enjoy nature.
our Mission
To provide competitive quality tours and show visitors the beauty of our country in a professional manner.
our Vision
Being the market leader in solutions adding value to the services we provide.
TOURS
· Corcovado National Park - San Pedrillo Station
· Corcovado National Park - Sirena Ranger Station.
· Osa Peninsula Sport Fishing
· Tour Caño Island
· Tour Del Rio Sierpe
· Drake Bay
(0) Comments
Add Comment

Close
Be the first to comment on this listing!
Advertising
Gallery
Click the photos to enlarge
Features
Map
Book