Kokopelli Kokomama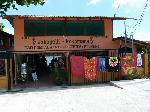 Our Restaurant and Pizzeria offers sea food at the best Italian style, we also have mexican food, pasta and more...
KOKOMANA BAR AND RESTAURANT
Our friendly staff look forward to serving with great service and great food!
Serving dishes from Costa Rica! Located along the Sierpe River in Central, Southern Costa Rica Sierpe opposite the park. In our bar and restaurant open daily 7:00 a.m.-9 pm offer Seafood, Pasta, Pizza and many tasty meals.
Kokopelli has long symbolized fertility, abundance, replenishment, music and dance. Stories abound about "when" you will see, many say that the spring brings ... others say that the hump on his back is full of seeds for planting, or is full of songs, and some even say that the bag is filled with children, he gives young women without children.
Whatever your story, I like to see represented with this partner, Kokopelli Mana, of course, all have half in this world.
From here you can catch Kokomana a boat ride to Drake Bay on the Osa Peninsula for $ 15 per person. This boat departs twice daily from our dock. We provide tourist information and service in four languages, French, English, German and Spanish.
Tours available Sierpe Kokomana Bar & Restaurant:
- Corcovado Park
- Caño Island
- River Amusement Park Animal
- Mangrove Boat Tour
- Night Hike and Tour Poison Dart Frog
- Birding
- Kayak
KOKOPELLI Gift Store
Visit our amazing gift shop inside the restaurant to find handmade jewelry, Boruca masks, handicrafts from Ecuador, Costa Rica and more memories!
The best prices and gift shop in town!
Stories have circulated for years about Kokopelli and sometimes they hear about Kokopelli Mana, its counterpart.
(0) Comments
Add Comment

Close
Be the first to comment on this listing!
Advertising
Gallery
Click the photos to enlarge
Features
Map