Ecomanglares Sierpe Lodge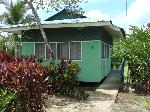 Ecomanglares Sierpe Lodge is the ideal place for visitors who want to experience the natural beauty of Costa Rica in a comfortable, rustic and homey style
Ecomanglares Sierpe Lodge is located in the South Pacific area of ​​Costa Rica, is located in a strategic location that allows easy access to the main attractions of this unique ecosystem, such as: Corcovado National Park, Cano Island, mangroves Sierpe, archaeological sites in the area Piedras Blancas National Park.
Ecomanglares Sierpe Lodge is a place surrounded by nature, located in Estero Azul river bank, with parakeets, parrots, macaws, from a wide variety of birds. Other animals such as monkeys, raccoons, iguanas add beauty to our site. We offer five individual cabins or bungalows, each with private bath, hot water, fans, telephone, all surrounded by beautiful gardens with native plants and flowers.
In Ecomanglares Sierpe Lodge all our staff are diligent, friendly and efficient. Most are members of the owning family, and make you feel at home! We speak Spanish, English and Italian.
A gift shop offers various handmade items and personal items. Internet access service is available.
The cabins are specially designed for your comfort and relaxation.
Our cabins are separated and have:
• Hot Water
• Fan
• Telephone in Room
• Laundry
• Extensive green areas
• Areas for hiking
• Output Dock tours
RESTAURANT
Our restaurant offers national and international cuisine and specializes in Italian cuisine and seafood. We can not fail to mention our delicious Ceviche Bamboo. As an Italian family that owns the place, the best pizza in the region are offered here.
All kinds of national and international drinks are available as well as wine, beer and soft drinks and purified water.
The restaurant is located at the entrance of the cottages facing a green area just meters from the river. The owner family is in charge of everything from the kitchen to the supervision of the last detail. His home is located on the same property very near cabins.
Opposite the restaurant's private dock for tours or transport by boat on the river. In the back there is a primary forest, with several walking trails and appreciate the flora and fauna.
• Piedras Blancas National Park
• Bird Watching
• NIGHT crocodile spotting
• Ballena Marine National Park
• INDIAN FIELDS
• ARCHAEOLOGICAL SITES
• Snorkeling
• Exploring MANGROVE
• KAYAKING
• INDIAN RESERVATIONS
• Cataracts
• And much more!
• DRAKE BAY
• Jungle Safari in Estero SIERPE
• FISHING
• CAÑO ISLAND
• NATIONAL PARK CORCOVADO
(0) Comments
Add Comment

Close
Be the first to comment on this listing!
Advertising
Gallery
Click the photos to enlarge
Features
Features
Bar
Bicicle rent
Cable
Dock
Fan
Hot Water
Internet
Kitchen
Laundry
Parking
Private garden
Phone
Refrigerator
Restaurant
TV
Vegetarian-restaurant
Theme
Aquatic
Adventure
Bird Watching
Ecotourism
Families
Hiking
Traveler Type
Families
Single
Couple
Group
Details of prices
Lowest price $ 50
$50 doble room with eco-manglares breakfast.
$15 aditional person on each cabin.
Map
Book