Cabins Sofia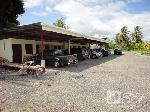 Sofia Cabins: Sierpe is a natural jewel of Costa Rica, and is a favorite spot for visitors to enjoy the lush nature that houses the river of the same name, which made ​​trips to Caño Island. Corcovado National Park, Whale and other tours.
Sofia Cabins
The town of Sierpe is where travelers go on a tour through the mangroves or take a taxi to travel by boat to Drake Bay, including Corcovado National Park and the Island of the Sewers. This is also where you can take a water taxi to get to your favorite spot.
You will notice Sofia cabins left of the image. This is a Tico owned hotel, very nice and clean, with good prices. The air conditioning and TV are available.
Whatever with seven rooms
· Air-conditioned cabins.
· Hot water.
· Private parking.
The rooms are furnished with a double bed and a single bed.
Total capacity for 21 person groups.
The cabins are located 125 meters northeast of the park Sierpe community, compared to the hardware store
(0) Comments
Add Comment

Close
Be the first to comment on this listing!
Advertising
Gallery
Click the photos to enlarge
Features
Features
Air Conditioned
Fan
Hot Water
Parking
Traveler Type
Families
Single
Couple
Map
Book