Underground Habitat TOPOLANDIA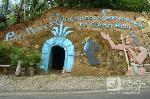 Topolandia Cave, the First Underground Habitat of Costa Rica. Private Residence Tours.
"Topolandia"
Underground Habitat.
PRIVATE RESIDENCE TOURS.
Consists of eleven entrances which come together and form a labyrinth of over 400 meters long where you will find:
Lots of hand carved Sculptures,

4 Bedrooms,

4 Living Rooms for relaxation,

1 Museum with stuffed Animals and Antiques,

2 Crystal pure Water Wells,

1 Master Conference hall for 25 people,

Rest and Relaxation Places,

Children's Play Areas outside.

Rustic Soda where we offer you delicious fruit smoothies.

Sanitary Services inside the cave,

Cool year round.

Flinstones´s Sculpture on the wall!!
OPEN DAILY

Topolandia Cave, an Unforgettable Experience!

Come and enjoy in family!
(0) Comments
Add Comment

Close
Be the first to comment on this listing!
Advertising
Gallery
Click the photos to enlarge
Features
Features
Pets Friendly
Conference Center
Parking
Restaurant
Traveler Type
Families
Yesngle
Couple
Group
Details of prices
Lowest price $ 10
The tour costs just

$10

each person.
Map
Book
About the area
Not have Description of Cities in San Pedro PZ but we present these other options: