Proximity Costa Rica - Technology and Development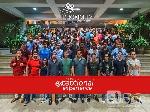 We are an Outsourcing Company, based on San Jose, Costa Rica, specialized on providing technology services to clients in the USA. We have a pool of highly qualified resources in multiple technologies and platforms that can help you.Do you need additional talented Developers for yo
We are an Outsourcing Company, based on San Jose, Costa Rica, specialized on providing technology services to clients in the USA. We have a pool of highly qualified resources in multiple technologies and platforms that can help you.Do you need additional talented Developers for your team in a long term model? Do you have just one Project where you need the technical expertise? We can definitively help you. Our services include 1) Custom Software Development and Maintenance in multiple technologies and platforms (web, desktop, cloud, mobile), 2- Testing Services (Functional, Automated, Load, Performance, etc), 3- Project Management Services (Agile and Waterfall), 4- Digital Marketing services (web and mobile), 5- DBA high end services on MS SQL Server.Our main focus is the US market and we have been in business since 2005, taking advantage of the benefits that Costa Rica offers.
Business Name :
Proximity Costa Rica - Technology and Development
Address :
Edificio Atrium 3er piso, costado sur de multiplaza segunda etapa
Website :
http://www.proximitycr.com/
Business Email
info@proximitycr.com
Keyword:
web development, software development, IT services
Twitter:
https://twitter.com/ProximityCR
Google+
https://plus.google.com/u/0/111923066162086261729/posts
Linked IN
https://www.linkedin.com/company/proximity-costa-rica
Youtube Video:
https://www.youtube.com/watch?v=b1wHxWVcdBA
(0) Comments
Add Comment

Close
Be the first to comment on this listing!
Advertising
Gallery
Click the photos to enlarge
Features
Map
Activities in the area
Lodgins in the area