Restaurant el Uran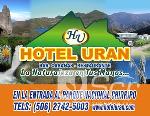 Restaurant, Bar and Cabins the Uran in San Gerardo de Rivas offers very good service and a friendly family atmosphere with delicious food ..!
In our restaurant we have a menu that offers a wide range of domestic and foreign dishes such as:

* Pasta.
* Salads.
* Burgers.
* Wide variety of vegetarian food.
* Desserts.
* Bread elavorados in our restaurant.


The products used in our restaurant are fresh, some produced in the community and neighboring towns.
It is open from 4:30 am to 8:00 pm, 7 days.

Also in our bar will find a variety of wines, spirits, beers and cocktails.

The Restaurant has Uran offer various services such as:

* Special packages for the Chirripo and San Gerardo.
* Packages of food for the Cerro Chirripo.
* Internet and wi-fi.
* Laundry.
* Equipment rental for your consent to the Chirripo bags, canes, kitchens, blankets and more.
* Private parking for 25 cars attached to the restaurant.
* Souvenir shop with items of Chirripo and San Gerardo, almost all are handicrafts of local artists and neighboring places.
* We also have Babañas where you can make your stay more pleasant rodeoado a magnificent climate and comfortable rooms with different rates for the comfort and tastes of our customers.

(0) Comments
Add Comment

Close
Be the first to comment on this listing!
Advertising
Gallery
Click the photos to enlarge
Features
Map
Tours in the area
Lodgins in the area