Roca Dura Cabins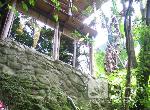 Your best choice to spend a very confortable, full of tranquility and natural beauty, and enjoy the wonders of San Gerardo de Rivas in Perez Zeledon
Come and learn the beauty of Hard Rock Cabins and stay with us in a comfortable cabin at low prices and excellent services.
We are located in a small town (San Gerardo de Rivas), where our main attraction is the huge Cerro Chirrripo, which is a few kilometers from our cabins, a place to relax while enjoying the diversity of nature sounds that cause a sense of peace, tranquility and ecological health.

We also offer a spacious, nice and quiet campsite in tropical gardens near the Chirripo River, with an excellent climate, water features simple, bathrooms with showers, a lovely way to the river, the tent price is $ 5, this does not include hotel services.

We also have a restaurant within the site where you can enjoy the cuisine of Costa Rica and international dishes.

You will be able to rent horses at $ 10 for one hour, if you want we can arrange to have a guide with you to better understand the traditions, common stories and real life of the inhabitants of the area and will cost only $ 5 ,

No Doubt will take great memories!
(0) Comments
Add Comment

Close
Be the first to comment on this listing!
Advertising
Gallery
Click the photos to enlarge
Features
Features
Bar
Hot Water
Private garden
Laundry
Parking
Restaurante
Mountain View
Theme
Adventure
Families
Mountains
Traveler Type
Families
Single
Couple
Group
Details of prices
Lowest price $ 7
PRICES PER ROOM:

Room with private bath: $ 25 - $ 30 per night
Room with shared bathroom: $ 7 - $ 15 per night

PRICE OF THE INCOME OF HORSES:

$ 10 / per horse for one hour
$ 5 per guide
Book