DANTICA CLOUD FOREST LODGE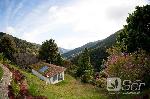 Is distinguished by its personalized attention harmony with nature and respect for the environment. It consists of 8 Bungalows with modern interior design decorated with typical features of Latin American culture, distributed in 7 Bungalows and 1 Suite, designed especially for you to enjoy contact with nature.
Dantica is an eco-boutique hotel, which was built between 2003 and 2008. Our hotel provides the following facilities; sleeping, restaurant, gallery, trails, tours and relaxing, combining quality and comfort in order to allow you to experience and enjoy the cloud forest in its purest form.
The lodge is situated in the valley of San Gerardo de Dota. Inside the Los Santos Forest Reserve, on top of a hill with a breathtaking view and a private reserve that consists of 5 km of walking trails, Dantica is the closest hotel to the newly created Los Quetzales National Park. Nearby you can also find typical restaurants, trails, trout fishing, protected areas, National Parks and the Cerro de la Muerte, with its 3480 meters the second highest point in Costa Rica and with a beautiful view of the Pacific Ocean and the volcanoes.
Superior Bungalows
All the bedrooms offer a beautiful view of the surrounding mountains and forest. Large, from floor to ceiling, glass windows, some up to 6 meters wide, give you the impression of being in the forest itself. Every bungalow has its own terrace situated at the south or west side, combining the warmth of the sun in this temperate climate with a view that enables you to oversee the valley and primary forest. Ideal for bird watching from a comfortable chair. The terrace is covered so that either fog nor rain will disturb you
All Bungalows have the following facilities:
· Queen-sized beds with goose-feather duvets
· Satellite television
· Ecological chimney working on ethanol
· Safe deposit box
· Minibar with fridge
· Coffee maker with coffee and tea as a courtesy of the hotel
· Couch and table with chairs
· Fantastic view
· Private terrace
· In the bathroom you will find:
· Jacuzzi tub with solar heated water
· Biodegradable soaps and shampoos
· Towels
· Hair dryer
4 - Person Bungalows
The 4-person Superior Bungalows have two bedrooms with private bathroom (one with Jacuzzi, one with shower), a terrace and a living room with a fully equipped open kitchen including stove and warm water.
Suite
Our Deluxe Suite is a little larger than a Superior and has an additional fireplace working on wood and a private garden with trail in the forest. Breakfast will be served in the Suite, on it's terrace or in your little private forest garden.
Internet service
We have high speed internet in the Reception Area, Restaurant and Gallery as well as in the gardens around these areas.
Restaurant services
We provide breakfast à la carte, which is included in our rates, from 7 A.M. - 9 A.M., lunch from 12 - 3 P.M. and dinner from 5.30 - 9 P.M.
Pick-nick
If you want to take the lunch with you on a walk or trip, just let us know, we prepare delicious lunches or snacks to take with you.
Playground
For families with children we have besides special rates and 4-person bungalows also a playground in the open air, so parents can sit at a table enjoying the beautiful view, while the children play next to them.
Tours
We offer tours in the surroundings with our own English ans Spanish speaking guide. Don't miss our quetzal and bird-watching tours, furthermore the are excursions to the surrounding National Parks (Los Quetzales and Tapanti), the Cerro de la Muerte (Costa Rica's second highest peak with its unique Paramo vegetation and amazing views) or a ride on horseback to the waterfalls. If you want to make a reservation in advance (recommended) we can send you our rates. Otherwise just ask at the reception upon arrival. More info
Transportation
Dantica has its own Landcruiser from 1973! to drive you arround in San Gerardo and surroundings. Also available for the tours we offer. For larger distances we can arrange a taxi for you that operates in the valley of San Garardo de Dota and can take you to every corner of Costa Rica. For more information we recommend to write us in advance.
Laundry service
Washing, Drying and Ironing
Delivered before 11 AM ready before 7 PM same day
Delivered after 11 AM ready next day before 10 AM
In your Lodge you can find a laundry bag to put your clothes in, and a check-list.
(0) Comments
Add Comment

Close
Be the first to comment on this listing!
Advertising
Gallery
Click the photos to enlarge
Features
Map
Book