Casa de vacaciones Las Tablas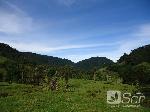 Know a place that will wrap with a magic spell, where you can breathe fresh air and be captivated by the show of nature. Where clear water spring runs.
Tables offers a great place to vacation where you will enrich your knowledge on the diversity of flora and fauna it.
Our accommodation offers room house with 4 bedrooms in which you can be comfortable with your family, with your partner, with your group of friends while enjoying this beautiful place.
While living their best vacation experience you can enjoy the hospitality and kindness of the Hartman Family Sandí which he was invited to perform a series of activities which you will not forget it.
Activities:
• Tour de Quetzales.
• Birding Tour.
• Fruit Tour.
• Wildlife Tours.
• Fruit Tours.
• Tour of trout fishing.
• Tour of ornamental plants.
• Tour of milking.
La Finca Las Tablas, is a wooded area located in the south of Costa Rica, at exactly the second district Coto Brus, its extension exceeds 1200 hectares, located just over 2200m on sea level. It is a very diverse flora and fauna, has water sources. In terms of tourism represents a pleasant destination for foreign nationals as well as both American and European visitors also brotherly country of Panama for its proximity to the border between the two countries
The owners of the property:
On the farm family living Sandí Hartman, Don Miguel Sandí Chanto has pioneered in the area to this day the farm owner, who did not know him doubt his great work as a farmer and rancher in addition to the work of building and develop the property.
Its geographic location of this land area allow the cultivation of various fruits such as avocados, plums, apples, pomegranates, blackberries, peaches, naranjilla among others, some fruits like apple and blackberry are processed for making jellies . Other crops grown are of cubases, chiverres, onion and plants like ferns and flowers. Also the area to be located on the 2200 m high concisiones allows optimal for dairy cattle, this being another characteristic activity of the farm with the production of milk and cheese.
(0) Comments
Add Comment

Close
Be the first to comment on this listing!
Advertising
Gallery
Click the photos to enlarge
Features
Features
Hot Water
Laundry
Mountain View
Home Features
Hardwood Floors
Theme
Honeymoon
Adventure
Families
Hiking
Bird Watching
Ecotourism
Traveler Type
Families
Single
Couple
Group
Number of rooms similar to this one your are adding now
4
Details of prices
Lowest price $ 50
Map
Book