Paintball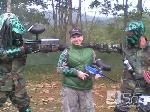 It is considered both as an extreme sport game. Today is the fastest growing recreational activity can play both sexes, and is recommended for ages 10 and up. It's a very safe if you obey the safety measures and rules.
For two teams are playing, usually between 8-16 people each, although they may be less or more, not restrictive.
The (gun) has a range of up to 50 meters. and is filled with paintballs (round bales) containing paint plant inside. The idea is to mark the opponents and the particular target depends on the type of game.
Rate per person is ¢ 5,000.00 (minimum 8 maximum 16 people to book).
Includes
• 100 balls
• Assemble with all necessary CO2 during play
• Protective Mask
• camouflage uniform
Prices refills
• 50 balls costs ¢ 1.750.00
• Bag of 150 balls costs ¢ 5,000.00
Monday to Saturday 7:00 am to 5:00 pm
Paintball is basically a team sport that becomes the perfect excuse to spend fun moments. A bachelor party / a, a birthday, any meeting, or just want to have fun as ever, are perfect to hear arguments this game together with your friends, your colleagues, your customers, your football team, etc. To begin contacting this activity simply contact we will provide the marker, protective mask, uniform paintballs (paint capsules) and a golf conditioning for the sport with lots of obstacles and hiding places. It is a highly competitive sport, the player will feel the need to improve their game with the strategy team at every opportunity to play.
Paintball requires a lot of communication before and during the game between his team-mates.
The player must be accurate in their attempts and quick in his movements. You must know the position of all its opponents and tell their peers.
For a "brand" to be effective, it must be performed by an active player (unmarked) and when the impact achieved in the sphere explode opponent this should be removed from the field with his gun raised.
Whatever your personality, and regardless of the strategies of the team, we guarantee that it is fun to play.
We have a variety of games. Each with a special touch of strategy, teamwork, physical effort and of course, lots of excitement.
(0) Comments
Add Comment

Close
Be the first to comment on this listing!
Advertising
Gallery
Click the photos to enlarge
Features
Traveler Type
Families
Group
Map
Book
About the area
Not have Description of Cities in Rivas De PZ but we present these other options: