Fonseca Cabins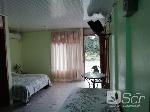 The best cabins / appartments in Rio Claro, Golfito
Cabins Fonseca in Rio Claro, Golfito offers 5 beautifully cabins, carefully cleaned and fine finishes.
Each cabin has a kitchen space, table and chairs, refrigerator, television, cable, air conditioning, hot shower and comfortable beds.
Visit us and enjoy the best place to stay.
(0) Comments
Add Comment

Close
Be the first to comment on this listing!
Advertising
Gallery
Click the photos to enlarge
Features
Features
Cable
Kitchen
Hot Water
Parking
Refrigerator
TV
Theme
Honeymoon
Adventure
Families
Traveler Type
Families
Couple
Group
Number of rooms similar to this one your are adding now
0
Price of extra person in room, Please not use decimals
0
Map
Book