Quepos Fishing Charters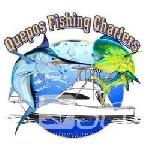 Quepos Fishing Charters have many years of experience in serving anglers from around the world. Whether you are looking for a day of targeting Sailfish or you are hunting the always elusive Marlin, our crew and boat is one of the best in the local fishing fleet.
Quepos Fishing Charters is located in the Quepos, Costa Rica and we offer Full Day and 3/4 Day trips. We're ready to give you the fishing experience of a lifetime! Our highly-trained and well-qualified charter boat crew speak fluent English and know every top local fishing spot. We are one of the top charters for Offshore & FAD fishing in Quepos, Costa Rica.
(0) Comments
Add Comment

Close
Be the first to comment on this listing!
Advertising
Gallery
Click the photos to enlarge
Features
Map
Book
Lodgings in the area
Conservation Areas
Not have Conservation Areas in Quepos but we present these other options:
Contact Data
Contact
Book
Menu
Contact
Advertising
All inclusive packages
Not have Packages in Quepos but we present these other options:
Transport options
Restaurants in the area
About the area
Not have Description of Cities in Quepos but we present these other options: