Mangrove Tour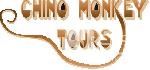 Let us show you this incredible world of nature from the perspective that there may be better when we can share the respect and love for nature and its gifts to us.
Mangrove Tour
Mangroves are considered a natural habitat and biodiversity that houses a miniature environments around the world, maintaining the balance and protect the coast, aquatic and terrestrial species.
This perfect balance is what allows us to show (that's why our schedule is set by the tide) the mangrove in its glow, the families of capuchin monkeys, crocodiles, hundreds of species of birds and other mammals such as smaller bear anteater in the world, also experience the effect of the tide when mixed with the river bank, are the different species of mangrove, and lots of mammals and some snakes (away from the boat).
(0) Comments
Add Comment

Close
Be the first to comment on this listing!
Advertising
Gallery
Click the photos to enlarge
Features
Theme
Adventure
Bird Watching
Beach
Ecotourism
Families
Honeymoon
Traveler Type
Families
Group
Details of prices
Lowest price $ 24000
¢4000 por persona minimo 6 personas.
Map
Book
Lodgings in the area
Conservation Areas
Not have Conservation Areas in Quepos but we present these other options:
$ 24000
Contact Data
Contact
Book
Menu
Contact
Advertising
All inclusive packages
Not have Packages in Quepos but we present these other options:
Transport options
Restaurants in the area
About the area
Not have Description of Cities in Quepos but we present these other options: