Hotel la sirena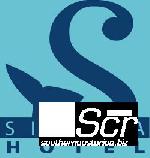 The hotel is perfectly decorated with plants and original artwork, and is highlighted by a colorful tiki bar overlooking the quiet pool. "
"This intimate boutique hotel is a warm welcome to the stage of Quepos, and is easily the best choice of Mid-City. White walls with a soft pastel finish are subtly lit by Tiffany lamps, giving the hotel a tranquil Mediterranean environment away from the noise of the stage just steps from the streets of Quepos.
La Sirena Hotel offers standard rooms with a double bed and private bathroom for 1 or 2 people. Our rooms have two beds and private bath for 2-4 people and three single beds and a private bathroom for up to 3 people. We also offer rooms with king size bed.
All rooms at the Hotel La Sirena are equipped with:
· Air Conditioning
· Cable TV
· Safe (WiFi)
· Free Internet
· Telephone in every room
· Snack Bar
· Hairdryer on request
· All rooms are non-smoking
· Hot water
· Telephone in every room
Sirena Hotel, with 10 double rooms (most with a / c) with fans and private bathrooms and hot water. They have a beautiful aesthetic, with whitewashed walls and blue two-tone fabrics and decor. The patio dining is just as nice, and has a terrace and pool.
No matter what your interest, we offer special packages to tour prices include your choice for each day you spend with us. We are familiar with the experts of all different adventures that are available.
Our guests can enjoy the amazing rides and activities around Manuel Antonio during the day and a variety of restaurants, shops and bars of Quepos.
We offer the best rates and tours of Manuel Antonio.
Naranjo River Rafting
Damas Island Kayaking
Coastal Rowing in Manuel Antonio
Hiking the Manuel Antonio National Park
Boat Trip by Damas Island Mangroves
Canopy Tour
Dolphin Watch
Farm Trip to Botany
(0) Comments
Add Comment

Close
Be the first to comment on this listing!
Advertising
Gallery
Click the photos to enlarge
Features
Features
Air Conditioned
Fan
Hot Water
Internet
Laundry
Pool
TV
Theme
Adventure
Beach
Ecotourism
Hiking
Honeymoon
Luxury
Traveler Type
Families
Single
Couple
Group
Map
Book
Activities in the area
Conservation Areas
Not have Conservation Areas in Quepos but we present these other options: