Hotel Pacifico Lunada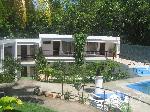 Enjoy the magic of the tropics, on top of the mountain. Pacifico Lunada has comfortable accommodation / C, pool, bar and Restaurant and is well situated as a starting point to explore the wonders of Manuel Antonio and Quepos.
Hotel Pacifico Lunada
Manuel Antonio, Quepos
The Hotel Pacifico Lunada started operating in Easter 2007 as a new project intended to provide comfort and entertainment to people who visit us. The Hotel Pacifico Lunada is backed by the Costa Rican Institute of Tourism through the tourism contract that recognizes us as a three star hotel 9700ADGH2008 under Art. Our guests will be served in English, Spanish or German.
We are located at 3.5 km and 3.5 km Quepos the entrance to the paradise of Manuel Antonio National Park where the most beautiful beaches, lush wildlife and vegetation. Halfway between Quepos and Manuel Antonio Beach, arriving at the Catholic Church in Manuel Antonio, it bends to the left and 75 m is the Hotel Pacifico Lunada
Hotel facilities include a total of 1200 m2, with construction in 2 sectors and large areas of gardens and pool.
In one section there are two levels, with 5 bedrooms and 6 the lower the top. The lower level opens onto a large garden with a wide aisle facing rooms inviting to sit and read or surf the net. We wi fi is available at the facility. The upper level also has a wide aisle in front of the rooms.
The other sector also has two levels. Upon entering the hotel is the reception area and up a ramp with handrail to upper level are the bathrooms but are designed to be used by people with physical disabilities. Also by this sector a little more into the street, we have the restaurant. It is very open, but roofed terrace type, with capacity for 35 people at tables and a long bar with high seats facing the outside.
The restaurant offers a varied menu that includes seafood, meats, pastas and even fast food and a variety of cocktails.
Rooms:
A total of 12 standard rooms. 6 double rooms with queen bed, 5 triples with 1 double and 1 single and 1 quadruple room especially designed for people with physical disabilities with two queen beds. All rooms have cable TV, air conditioning, hot water, bathroom, safe and wireless Internet.
Facilities we offer
Posts
Wake-up calls
Laundry
Telephone calls, national or international
Information tours
Towels for pool
Breakfast
Wireless Internet
Safe-deposit box
Room service
Our guests can easily navigate to different sites in the area either by bus, taxi or walking. We are very close to supermarkets, restaurants, ATMs, internet cafes, spas, and so on. Even, you can walk to the beach and National Park.
(0) Comments
Add Comment

Close
Be the first to comment on this listing!
Advertising
Gallery
Click the photos to enlarge
Features
Features
Air Conditioned
Cable
Fan
Hot Water
Internet
Jacuzzi
Kitchen
Laundry
Mountain View
Parking
Private garden
Phone
Pool
Refrigerator
Restaurant
TV
Vegetarian-restaurant
Theme
Adventure
Bird Watching
Beach
Families
Honeymoon
Mountains
Traveler Type
Families
Single
Couple
Group
Map
Book