Tour de Pesca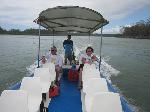 In the swamp and tide, the fishing experience, enjoy our wonderful area, yet you can see monkeys, birds and other natural attractions.
Sport Fishing
Sport fishing is one of the most popular activities in Manuel Antonio and Quepos, on the coast and offshore this area is world famous.
However, just as famous sport fishing Sport Fishing also offer Mangrove.
In the mangrove, the journey is easier, is located 10 minutes from any hotel in the area.
And after addressing any of our boats you will be fishing in less than 15 minutes. The secret of mangrove fishing to supplement a little fishing in the ocean and the river. The scenario of mangroves and the possibility of preserving some spices provide an unforgettable experience.
includes:
Fisheries expert guide.
Drinks and food on board.
(0) Comments
Add Comment

Close
Be the first to comment on this listing!
Advertising
Gallery
Click the photos to enlarge
Features
Theme
Aquatic
Adventure
Bird Watching
Beach
Ecotourism
Families
Honeymoon
Traveler Type
Families
Single
Couple
Group
Map
Book