JP Sportfishing Tours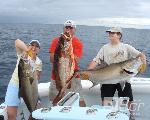 We won't just take you fishing; we'll give you memories you'll want to live over and over again for years to come. And we'll do whatever it takes to make sure your visit is as memorable as possible. Y haremos todo lo posible para asegurarse de que su visita sea lo más memorable pos
Open for business since 1993, we've got street cred, so to speak. Over the years we've had a chance to do a lot of neat stuff, like being featured on The Outdoor Channel's TV show The Catch Costa Rica, holding the world fly fishing record for Pacific Sailfish, and having had world-famous Captain of the Year man our boats, once upon a time. We also are thrilled to have organized and led the first national children's sport fishing tournament, going on round two this year. Our favorite thing is welcoming back the sport fisherman who've been fishing with us for over a decade–we look forward to having you join our family!
Everything We Catch:
Sailfish
Marlin
Mahi Mahi
Tuna
Wahoo
Snapper
Amberjacks
Rooster Fish
caballas
Snook
Packages
Want us to plan your trip beyond your fishing days? We can get you set up with San Jose lodging, ground + air transfers, Quepos/Manuel Antonio lodging, and your fishing days, of course–all custom designed for you, from scratch, based on your preferences. Let us worry about the details; you worry about packing your best fishing hat.
Desde que hemos estado haciendo esto por más de 20 años aquí en Quepos y Manuel Antonio, sabemos exactamente lo que estamos haciendo. Eso significa que no hay confusión. No hay problemas técnicos. No hay err
*Rates charged are per charter, 6 anglers maximum.
Each charter includes:
Captain & mate on board
All fishing tackle, diesel, bait & lures
Approximately 7 hours of fishing (full day)
Beer, snacks, fruits, water & sodas

Not Included:
Transfers
Fishing licenses, approx. $15 p.p.
Boat crew gratuities
Since we've been doing this for over 20 years here in Quepos and Manuel Antonio, we know exactly what we're doing.
That means no confusion.No mistakes. No glitches.
(0) Comments
Add Comment

Close
Be the first to comment on this listing!
Advertising
Gallery
Click the photos to enlarge
Features
Theme
Adventure
Families
Beach
Aquatic
Tour Duration
1-6 hours
One day
Traveler Type
Families
Couple
Group
Details of prices
Lowest price $ 675
Full Day $1100
(Nov. 1 – May 15)
Full Lunch
7:30am – 4:30pm
3/4 Day $925
(Nov. 1 – May 15)
Light Lunch
7:30am – 2:00pm
(May 16 – Oct. 31)
$925
(May 16 – Oct. 31)
$775
(May 16 – Oct. 31)
$675

Map
Book