Prefabricated House Design in Quepos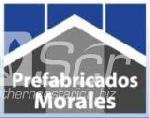 We manufacture prefabricated house to distribute wholesale or detail with quality materials, to ensure your project.
Prefabricated MORALES
manufacture
· Prefabricated Columns in various heights and thicknesses
· Tiles manufactured in different lengths and designs
· Special Columns prefabricated two-storey
· Box breakers
· Columns electricity meter type
· Reinforced Poles near.
. housing
(0) Comments
Add Comment

Close
Be the first to comment on this listing!
Advertising
Gallery
Click the photos to enlarge
Features
Map