DANI PELUQUERIA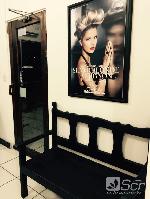 HIGH HAIRDRESSING, NAILS, WAXING, FACIALS, BEAUTY AND HAIR AND MAKEUP FOR BRIDES
WE ARE COMMITTED TO YOUR BEAUTY TREATMENTS AND WE ARE SPECIALISTS IN HAIR RECOVERY OF ABUSE BY CLIMATIC FACTORS OR OTHER EFFECTS OF CHEMICALS, We also specialize in IONIC PLAIN AND COLOR WITH OR WITHOUT AMMONIUM DISCOLORATION.
FACIAL ANTI STAIN, LIFTING, AND VEILS OF COLLAGEN MOISTURIZING DEEP.
IN THE AREA OF HAIR REMOVAL WE WORK: BIKINI FULL, BASIC, legs, underarms, arms, face, nose and ears.
AND FOR YOUR HANDS WE HAVE TREATMENT WITH PARAFFIN, SCRUBS AND CREAMS NUTRITION, ARTIFICIAL NAILS AND FANTASY, manicure and pedicure.
AND WE OFFER ANY KIND OF PRODUCT LIKE SHAMPO SPECIALIZED FOR TREATMENT FROM THE BEST BRANDS, SALERM, TEC ITALY, Loreal, ALFA PARF, MASGLO, SATIN SMOOTH, INCLUDING BICIANA.
IF BEAUTY IS YOUR CONCERN, TRUST IN THE EXPERTS, will be a pleasure to serve you MONDAY TO SATURDAY FROM 9 AM TO 7 PM PREFERABLY WITH APPOINTMENT
(0) Comments
Add Comment

Close
Be the first to comment on this listing!
Advertising
Gallery
Click the photos to enlarge
Features
Map