DANI HAIRDRESSING QUEPOS CENTRO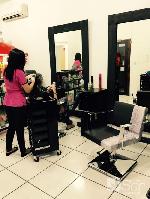 HIGH HAIRDRESSING - NAILS - WAXING - MAKEUP AND HAIR BRIDES - FACIAL
WE ARE COMMITTED WITH YOUR BEAUTY. WE OFFER THE HIGHEST QUALITY AND THE BEST PRODUCTS, WE SPECIALIZE IN HAIR RECOVERY OF ABUSED BY AGENTS OF CLIMATE AND CHEMICAL TREATMENTS AS cauterization, NUTRITION, AND CHOCOLATE KERATIN BRIGHT AND BATH, PLUS COLOUR SERVICES, WE ARE eXPERTS IN bLOND HAIR, SMOOTH iON, STANDING, AND ALL KINDS OF CHANGES IN YOUR HAIR.
AND FOR YOUR NAILS MANICURE AND PEDICURE WITH SPECIFIC TREATMENT FOR TIRED FEET, WITH PARAFFIN AND CHOCOLATE dry, and we can not FORGET YOUR SKIN, WE HAVE SPECIALIZED EQUIPMENT AS THE HIGH FREQUENCY AND ACURA SPRAY FOR MAKING OZONE hydrations DEEP, AND LIFTING CLEANING. IN BIKINI WAXING WE AHVE FULL, CONTOUR, underarms, legs, arms, FACE, NOSE AND EARS.
FOR BRIDES WE OFFER MAKEUP AND HAIR SERVICE IN OUR PLACE OR IN YOUR LOCATION.
VISIT US NOW!!
(0) Comments
Add Comment

Close
Be the first to comment on this listing!
Advertising
Gallery
Click the photos to enlarge
Features
Details of prices
Please call us for prices.
Map