Restaurante Carolina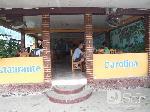 Carolina Restaurant offers a delicious menu full of dishes in Puerto Jimenez downtown
Restaurant Carolina offers a full menu of national and international dishes.
Our prices are affordable and we also offer amenities such as cable television and internet.
If you visit our restaurant, you can use wireless internet, but also enjoy nice talking with friends in front of the main road.
Carolina's Restaurant in downtown Puerto Jimenez.
See the Cabins
(0) Comments
Add Comment

Close
Be the first to comment on this listing!
Advertising
Gallery
Click the photos to enlarge
Features
Map