Bolita Ecolodge bolita.org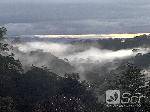 RIGHT AT THE BORDER OF CORCOVADO NATIONAL PARK. We share the same rain forest. 61 hectares (150 acres). 15 km of trails. Spectacular ocean and park views. The deepest inland hotel in the Osa Peninsula.
Right at the border of Corcovado park. Only $10 per night. NO RESERVATIONS NEEDED.
The lowest priced hotel near the park!
One of the MOST NATURAL places in Costa Rica.
No phone, so just come down, we're open.
ADVENTURE IN THE REMOTE JUNGLE: Bolita is a sustainable lodge on 61 hectares (150 acres) in the Golfo Dulce Forest Reserve, in the Osa Peninsula in Costa Rica.
BOLITA is surrounded rain forest, with spectacular views of the Golfo Dulce and Corcovado Park with the ocean and beach 14 km away.
Right at the border of Corcovado Park. 15 km of amazing trails, fascinating wildlife, and excellent bird watching.
Explore Rio Tigre and take a swim. There are many waterfalls, including the Bonanza, or just relax in a hammock.
COMMENTS FROM OUR GUEST BOOK:

" This place is just amazing. Here four days and these were [the] best four days of my trip so far...the most peaceful nights I've ever had. I had the best time of my life" Yuron, Israel Had a magical 4 nights in paradise. We absolutely loved our time here." Peter and Shana, New Zealand "A National Geographic dream come true!" Jill May, U.S.A. "One of the best place on the world!, (been before 60 countries)." Alekxandr, Ukraine "We saw way more stuff on your property than in the park." Sue and John, Hawaii

Bolita Ecolodge is a wonderfull place RIGHT AT THE BORDER and CONNECTED TO CORCOVADO NATIONAL PARK in the middle of the rain forest.

Near the village of Dos Brazos (Tigre) Only 14km from Puerto Jimenez.

Bolita is surrounded by primary rain forest, with spectacular views of the Golfo Dulce and Corcovado park.

Activities:

- We have 15 km of amazing trails. Explore the river Río Tigre or take a swim in the natural and private waterfalls and pools of Bolita. Rock climbing and birding. Also you could Visit the village for gold mining, and horse riding. Or just relax in a hammock

- 61 hectares (150 acres) with 15 km of trails in the Osa Peninsula forest reserve.

- The waterfalls make great destinations, including the well known Bonanza waterfalls.

Facilities:

Kitchen facilities are provided with fresh spring fed drinking water. Bring food. No refrigeration or food on site. With special attention placed on reusing and reducing all waste products, no garbage has been taken off the land for the last five years. We recycle it all.


You can purchase food in Puerto Jimenez, or in the two food stores in Dos Brazos. (No food or refrigeration on site)

Enjoy the sun warmed showers.

Accommodations:

Dorm style beds, a private double room, and tents are $10 pp/night.

Getting there and back:

From Puerto Jimenez, take the " el Tigre " bus by the internet cafe and El Regalon clothes store at 11am and 4pm. 40 minutes later, in the town of Dos Brazos (Tigre), follow the signs to the office for baggage storage and check in. To Bolita, it's an aggressive, but beautiful 730m trail through the rain forest.BOLITA right at the border of Corcovado park.

To return, the bus leaves at 6am, and 12 noon.
(0) Comments
Add Comment

Close
Be the first to comment on this listing!
Advertising
Gallery
Click the photos to enlarge
Features
Features
Hot Water
Kitchen
Mountain View
Ocean View
Parking
Private garden
Pets Friendly
Theme
Adventure
Bird Watching
Ecotourism
Hiking
Mountains
Traveler Type
Single
Couple
Group
Details of prices
Lowest price $ 10
$10 per person, all year around.
Map
Book