Finca Exotica Eco lodge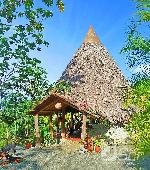 Finca Exotica offers you hand crafted jungle cabins and tiki tents with spectacular views for a family, couple or group. The liberating open style lodging here lets you enjoy the fresh air, gaze into nature and hear the beauty of it all in comfort. We are the closest lodge to Corcovado National Park accesible by car.
Where civilization ends ... nature begins to unfold its true beauty. Walk along the deserted beaches along the world famous Corcovado National Park in Costa Rica. Meet the monkeys, tapirs and colorful birds while walking through the dense rainforest of the Osa Peninsula. Enjoy natural foods that grow on our organic farm near where stylish country living in his private cabin. Reflecting the values ​​of nature and life in the natural exuberance of Finca Exotica Playa Carate.
Finca Exotica offers cabins and tents craft tiki jungle with spectacular views for a family, couple or group. The open style accommodation here liberating you to enjoy the fresh air, look at nature, and hear the beauty of it all in comfort. Take time to drift into a deep sleep as fresh breezes drift through the skin or awake, possibly, the buzz of a hummingbird in her bed and the scent of sweet flowers. We are proud to offer a clean simple elegant.
Finca Exotica ecolodge, Organic Farm, Botanical Garden and 200 + acres located on biological refuge in Carate, Osa Peninsula, Costa Rica Next to the world famous Corcovado National Park.
Exotic Villa gives you access to the protected tropical nature, rustic elegant rooms, beach access, organic food, gardens, yoga, swimming, hiking trails, tours and sustainable education.
1. Tropical Cabins
2. Tiki tents
Tropical Cabins - top We are delighted to offer a selection of five exclusive cabins, ideal for couples, families or friends of up to 4 people, equipped with queen bed and / or single beds, flowers, candlelight, mosquito nets, a private bathroom and a shower outdoors.
Tiki tents - We offer top tents locally handmade jungle for 2 people, with either a queen bed or two single beds that are placed on platforms plenty to keep you dry. The stores are spread throughout the spacious garden which provides the opportunity to immerse themselves in nature.
Activities
· Bird Watching Trip Early
· Walk ecological half-day trip
· Travel Cascada half-day
· Kayak
· Horseback Riding
· Corcovado National Park, La Leona and Sirena
(0) Comments
Add Comment

Close
Be the first to comment on this listing!
Advertising
Gallery
Click the photos to enlarge
Features
Features
Bar
Internet
Laundry
Mountain View
Ocean View
Parking
Restaurant
Vegetarian-restaurant
Theme
Adventure
Bird Watching
Whale Watching
Beach
Ecotourism
Families
Hiking
Honeymoon
Traveler Type
Families
Single
Couple
Group
Details of prices
Style

Low Season
May 1 - Nov 15

High Season
Nov 16 - Dec 18
Jan 5 - April 30

Holiday Season
Dec 19 - Jan 04
Minimum 3 nights

Cabinas

1 person

$140

$155

$170

2 people

$115

$125

$140

3 people

$105

$115

$125

4 people

$100

$110

$120

Children under 10

$65

$75

$80

7 nights or more

10% off

5% off

Tiki Tents

1 person

$70

$80

$90

2 people

$70

$80

$90

Children under 10

$40

$55

$60

7 nights or more

10% off

5% off
Map
Book