Villas Maria Luisa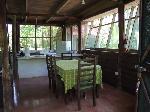 Beautiful and comfortable villa in Playa Chaman.
Villas Maria Luisa cabins are well equipped with the necessary utensils for your convenience.
The 5 Villas are on two floors with habitcione at the top, the kitchen, a comfortable lounge and toilet on the lower floor.
These beautiful villas are well suited for 6 people each.
Our facilities include a spacious and secure parking.
The Villa Maria Luisa is a complex Located Less Than 50 meters from the main entrance to the beach La Colonia or Known popularly as Shaman.
In our complex you can enjoy a beautiful and spacious pool and also a special space for recreation, for a pool table, mini-soccer field and football in addition to exercise machines and more.
Besides having these cabins offer 1 house with a capacity of 7 persons each with 8 apartments for 4 persons each, which means that our safe and spacious complex has the capacity for more than 60 people.
(0) Comments
Add Comment

Close
Be the first to comment on this listing!
Advertising
Gallery
Click the photos to enlarge
Features
Features
Air Conditioned
Cable
Fan
Gym
Hot Water
Internet
Kitchen
Parking
Private garden
Pool
Refrigerator
TV
Other
Theme
Aquatic
Adventure
Bird Watching
Beach
Hiking
Honeymoon
Other
Traveler Type
Families
Single
Couple
Group
Details of prices
Lowest price $ 100
Low season:
House $120 for 7 people.
Villas $100 for 6.
Apartments $80 for 4 people.
High season:
House $160 for 7 people.
Villas $160 for 6.
Apartments $120 for 4 people.
* Extra person pays $20
Map
Book