Cabins Costa Marina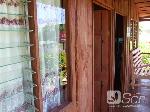 Beautiful and very comfortable cabins near the beach.
Costa Marina Cabins are 2 beautiful beach cabins located in Playa Chaman, the nearest beach of Uvita city.
Our Cabins are only at 100 meters from entrance of Ballena Marine National Park.
Our cabins are so special for people who want to visit the nearby beach, due to our proximity to some of the most popular beaches, with wonderfull views and very quiet sea.
We also have some facilities like Restaurant where you can enjoy delicious seafood as well as delicious pizzas.
(0) Comments
Add Comment

Close
Be the first to comment on this listing!
Advertising
Gallery
Click the photos to enlarge
Features
Features
Air Conditioned
Cable
Fan
Hot Water
Parking
Restaurant
TV
Other
Theme
Adventure
Beach
Hiking
Other
Traveler Type
Families
Single
Couple
Group
Details of prices
Lowest price $ 40
$40 for each cabin for 2 people
Map
Book