Tourist transport SUYO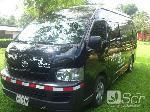 Touristic transport services.prestamos servicios de transportes de estudiantes, (transporte privado) 8 años de experiencia, trato personalizado, experiencia con niños.ect. si trata con nosotros encontraras un amigo mas.
Transport SUYO offers two comfortable vans:
A Toyota HIACE, model 2007 for 15 passengers, y techo alto 16 passengers, we use it for tourism.
Both are very comfortable and have all the permits and insurance law, also we ensure the health of the general operation of the vehicle.
We offer trips within and outside the country, personalized service and excellent prices. We always adjust the budget of the client.
(0) Comments
Add Comment

Close
Be the first to comment on this listing!
Advertising
Gallery
Click the photos to enlarge
Features
Details of prices
Our prices depend on the chosen destination and the number of people.
Please call us and we will do a quote that fits your needs.
Map
Tours in the area
Lodging options