Tavel Agency Costa Rica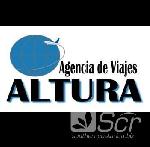 Airline tickets, travel package to the best destinations in the world.
Viajes Altura is a dedicated professional and personalized service that solves the needs and expectations of people who wish to travel agency, that is our mission.
We offer the best and most convenient travel packages to the best destinations, airline tickets, immigration procedures, to apply for American visa appointments, fill out forms to apply for American visa and professional consultation.
Visit our satisfaction is the best way to serve you.
We are located in San Isidro, Perez Zeledon 50 mts West Coopealiaza headquarters.
(0) Comments
Add Comment

Close
Be the first to comment on this listing!
Advertising
Gallery
Click the photos to enlarge
Features
Map
Book